Promoting Resilience and Healthy Outcomes for LGBTQ Students
A workshop by the Safe Schools Program for LGBTQ Students, a joint initiative between the MA Department of Elementary and Secondary Education and the MA Commission on LGBTQ Youth, hosted jointly by Divisions IV, V, VII, and X.
Wednesday, August 9, 2023
11 am to 1 pm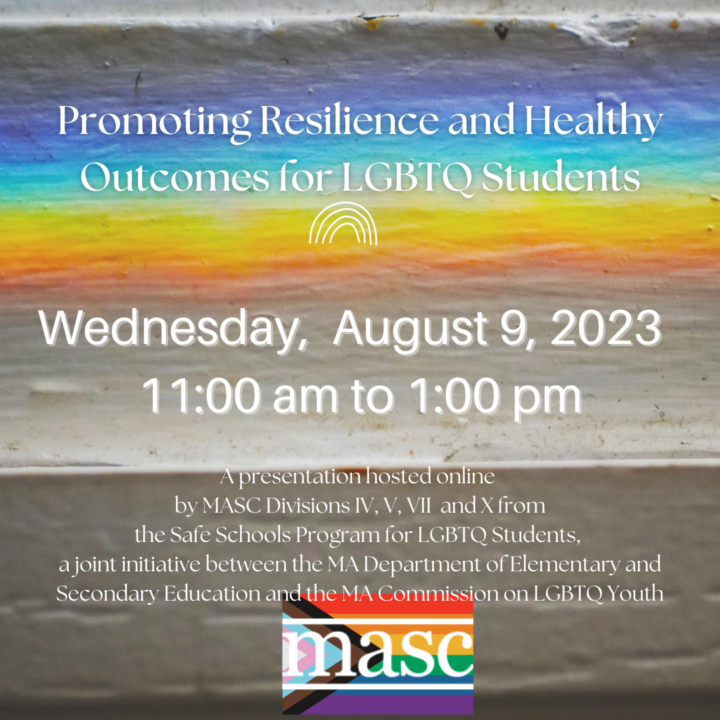 This session will review the laws, policies, resources, and best practices for supporting lesbian, gay, bisexual, transgender, queer and questioning students, with a focus on transgender and gender nonconforming students.
By the end of this workshop, participants will:
Be able to articulate and use correct LGBTQ terms and definitions;
Understand the experiences of LGBTQ students and families;
Have reviewed ESE policy guidance as it relates to students, families and staff;
Be aware of the factors that promote resilience and positive outcomes for LGBTQ Students; and
Recognize and respond to bias-based bullying and harassment
This presentation will take place on Zoom. Sign up below to have the link for the workshop, as well as a pre-meeting survey, sent to you.